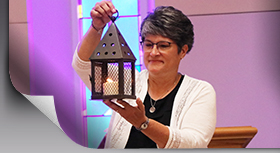 Happenings
Visitors Temporarily Restricted Due to COVID-19
The Sisters of the Presentation's number one priority is the health and safety of all who live, work and visit our Presentation motherhouse. Due to the serious and escalating nature of the Coronavirus (COVID-19) outbreak, and because our sisters are among the population listed as most vulnerable by the Center of Disease Control (CDC), the Presentation motherhouse will be closed to all visitors until further notice. We continue to pray for the health and safety of all. In keeping with the directives of the Archdiocese of Dubuque, we will not be holding public liturgical celebrations. We look forward to the time when our home is open to worshipping with our friends and neighbors.
Because this situation is changing rapidly, these steps may evolve and change over the coming days and weeks. Please check our website www.dbqpbvms.org or www.facebook.com/dbqpbvms for the most current information.
Join us in praying for all those affected by the COVID-19 virus.